This article would benefit from a more standard writing style.
Articles should be formally written and should be divided into proper sections. For reference, the author should read other, more standardized articles.

The 3M 6000-series is a general purpose full-face respirator. It comes in 3 different configurations (with downward facing exhalation valve cover, without downward facing exhalation valve cover, and DIN-threaded connection w/o downward flowing exhalation valve cover) and 3 different sizes (small/medium/large).
The mask has 2 standard 3M bayonet connectors, one on each side. A filter or blanking plug must be installed on each connector. The mask can be optioned with a single DIN (40mm) connector at the front.
The mask harness is a simple 4-strap rubber affair, with a ladder-pattern at the back. 3M sells the straps. Everything on this mask has a spare or replacement part sold by 3M, so it is a very repairable mask.
Depending on the filters used, radioactive particles can be filtered through this industry-grade mask, and it has seen use in the Fukushima cleanup efforts using the 60928 Organic Vapor/Acid Gas Cartridge / P100 Filter combo with radioiodine filtering. Refer to 3M documentation for full lists of compatible filters and cartridges.
Note that this does not mean the mask is a suitable replacement for proper CBRN-rated gasmasks, but can serve as one in some capacity.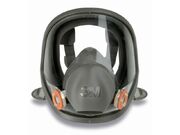 The 6000-series full-face respirator does not have size markings. the only part specific to the size is the face gasket, making every other replacement/accessory swappable and usable on any mask in the series. gaskets are differentiated by color.
6700 - small - white - "mostly suitable for children"
6800 - medium - light gray - "fits 80% of the population"
6900 - large - dark gray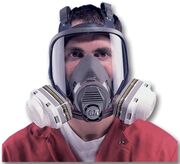 size guide
Variants
Edit
"x" denotes size
DIN:
6x00DIN - front exhale assembly has a provision for standard 40mm filters, includes caps to block the side inlets
PAPR: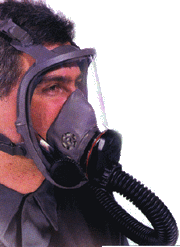 6x00PF - Powerflow face-mounted PAPR
Parts and Accessories
Edit
6878 - spectacle kit. optional accessory for fitting prescription lenses.
6885 - clear adhesive lens cover. protects lens from paint spray/beadblast/etc.
6886 - tinted adhesive lens cover
6895 - side port gasket
6864 - downward-firing exhale valve assembly
6897 - head strap
7883 - neck strap. optional accessory that keeps the mask at the neck when doffed.
6884 - DIN port adapter. replacing a stock 6800's exhale port with this will allow you to outfit it with 40mm filters, provided the side-vents are covered using bayonet caps
6880 - bayonet cap. can be used to cover one side and use a single filter, or both for use with 40mm filters.
Community content is available under
CC-BY-SA
unless otherwise noted.