Filters listed in this article are known to contain materials HAZARDOUS to health
Exercise caution when handling and storing.
Consult your health care professional if you have any concerns.


Please see the article below for further details of the exact nature of hazard.
It is STRONGLY RECOMMENDED that you DO NOT attempt to use the filter(s) included in this article
We need more information
This article is a stub.
You can help Gas Mask and Respirator Wiki by expanding it and adding more information to it.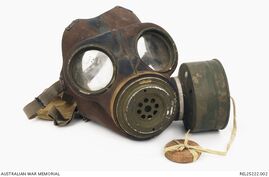 Released by the manufacturer in October 1943, referred to as 'Respirator, Anti-Gas, Light L3'. Intended to replace the GS type, then in use. Its improvements were its light weight, simplified carriage and its waterproof container. The change from the snout mounted type of respirator gave a soldier greater freedom in firing the rifle from the right shoulder. Modified design of the outlet valve created better acoustic qualities. Available in three sizes; large, normal and small. The respirator followed closely the British light pattern but the camouflage effect is an Australian innovation for jungle warfare.
Australian Army Respirator, Anti-Gas, Light. Gas mask respirator with lefthand side-mounted, green painted metal filter canister. Two-tone black and brown rubber face mask has two circular eye pieces in protruding moulded brow. Circular metal frontal air intake. Adjustable elasticated harness. Two different size cork stoppers for sealing the filter and mouthpiece openings are connected by a short length of cotton tape. Rubber face mask embossed on right cheek with 'ANSELL 43'. 'NORMAL' But have also been known to have 'KENTWORTH' embossed on face mask at right jaw hinge. '21' printed in black under right eye piece. Filter canister is stamped 'WILLOW' on the rim of the lid and printed in black with '8' and an arrow. The base of the filter canister is embossed 'No.2 / WILLOW / 43' and is printed in black with an arrow. The metal circlip which connects the canister to the face mask is stamped 'H.A. 1943 No.6'. The canvas yoke for the harness has the initials 'J.P.' written in pen, under which is a block of indecipherable letters or numerals, then 'M.H. & CO. / 1944'
ALAG, Australian light anti gas respirator, there appears to be two variants, the L2, original, and L3 modified, the original can be seen in a published period photo, three differences to note are 
A) it lacks the metal inhale valve fastener, and by extension the 7th strap from filter to harness, instead it uses tape, and (Assumed) wire to fasten the inhale valve in place (This is further backed by slight amounts of tape remnants on my masks inhale valve) 
B) unpainted eyepieces, by observation, of period photo
C) a completely black exhale valve, Jareds mask appears to use both green and black paint on valve, while mine and Jojos are full green
Australian light weight with all these features can safely be called a ALAG L2, the original run mask dated 1943
In 1944, all known models are assumed to have underwent a update by many different companies, adding the metal inhale valve fastener, a new double layer harness(Only some are doubled layered), with a 7th extra strap for keeping the filter in place when worn, and being renamed L3 Light anti gas respirator, the reason its suspected to of been updated, and not a new production mask, are the conflicting dates.
each mask has three sets of dates (One may actually be a lot number) stating 2 KENTWORTH 5/43 (Mine) 4/43 (Jareds) 7/43 (Jojos) (First number is suspected month of production, not confirmed) then a chin stamp is labeled ML 24 NOV.43 on all masks, (Adoption date, lot number?)
Mine has a label on the headharness saying NO. L3 M.H&CO. 1944, jareds says No. L3   H.P.L   1944, and jojos SMC.(Greek letter for Omega floating, unsure) NO. L3 1944
All known models are L3 masks, as it seems that L2 was for some reason found unsatisfactory, and updated, by a number of companies.
Community content is available under
CC-BY-SA
unless otherwise noted.