The
US CD V-800
(sometimes known as "M16")
was developed for Civilian usage in the late 1950's by Firestone Rubber.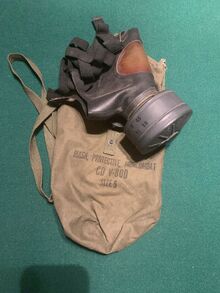 Introduction
Edit
The rubber the facepiece is made of is comparable to the texture and feel of new car tires which is fairly similar to the feel of other masks at the time.
The filter is a 60mm thread which was also common on other masks at the time (namely the M9 and M9A1 masks).
The mask was made 4 sizes, 1 being the largest and 4 being the smallest. The mask was fairly primitive in design, lacking a proper oronasal cup.
The Full kit for this mask contained the facepiece, olive colored haversack which was made of a very rough material, filter, anti-dim cloth, and the original cardboard box.
On the haversack the words "MASK, PROTECTIVE, NONCOMBAT CD V-800" along with the size number were written as a way of identifying the mask. The haversack was very simple only using one strap and some sort of button-latch system on the side, most likely used to close the bag and lock the flap in place. The filter came in a black metal can, on the side of the can in dark ink reads the instructions to opening the filter and on top of the can, is a key that is used to open it.
The anti-dim cloth also included with the kit is very common with other WWII masks, made up of a gray metal and a gray cloth inside. In order to use the Anti-Dim cloth, one must moisten the cloth first, then rub over the lens.
Community content is available under
CC-BY-SA
unless otherwise noted.