Brief Overview
Edit
The Bulgarian DP-1 was a gas mask intended for children, as evidenced by its small size. It is very similar to the Czechoslovak DM-1, but with some minor differences. Very little is known about this masks history, although it is known that DP-1 production continued after the DM-1 production ceased.
Mask Overview
Edit
Upon first glance, the DP-1 appears to be little more than a DM-1 with a different colour facepiece, however, there are some differences that should be noted.
Firstly the hose threading on the DP-1 is metal rather than Bakelite as seen on the DM-1. Much like the DM-1, the DP-1 hose is permanently fixed via fabric tape. This was probably done to ensure a child cannot accidentally knock and unscrew their hose.
The clamp that affixes the valve assembly to the rubber portion of the mask is not protected by a rubber band like the DM-1, instead, a small piece of fabric tape is used to ensure the clamp is secure underneath the DP-1's facepiece.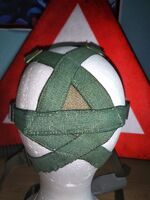 The DP-1 head-harness is, again, similar to its Czechoslovak counterpart. It is a six-point harness with adjustable buckles. The DP-1 head-harness straps are made of dark green fabric, whereas the DM-1 straps are grey. Additionally, the pull-tabs appear to be made of artificial leather. This same artificial leather can be found on the inside of the head-harness.
The DP-1 presumably came in the same sizes as the DM-1 (0,1,2), with size 2 being the largest.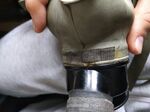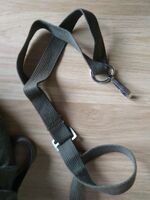 The DP-1s haversack differs from the DM-1 haversack. Firstly, the DP-1 haversack is a dark green-grey with compartmentalization which differentiates it from the DM-1 haversack; on the outside of the DP-1 haversack are two buttoned pockets (one on each side). These pockets are incredibly small, so were most likely used for storing anti-fog soaps. Also, the DP-1 haversack sports a metal clip that attaches to a D ring to form a waist strap. This waist strap features an adjustable buckle. This haversack also sports an adjustable shoulder strap. The inside of the haversack is split into two compartments - one for the EO-18 filter and one for the DP mask.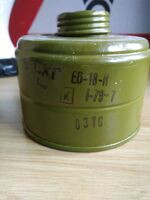 Other information/Trivia
Edit
The exact production timeline of the DP-1 is hard to fully establish; this mask is fairly rare outside of Bulgaria. The example pictured below (see gallery) is dated 1979 which, interestingly, is long after the DM-1 production ended (early 1970s).
Community content is available under
CC-BY-SA
unless otherwise noted.