We need more information
This article is a stub.
You can help Gas Mask and Respirator Wiki by expanding it and adding more information to it.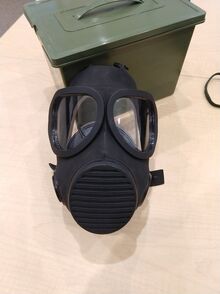 Mask
Chinese issued gas mask. Believed to be the next generation from the MF-22. Know to feature markings indicating size on the right hand side of the mask.
Manufactured for the PLA in factory 908. Matte finish to the rubber, it has a 3 pin microphone passthrough on the front plate.
There's some holdover from older Chinese designs like a rubber diaphragm. The filter port is not removable, and this example is left-hand filter only. The carrier is identical to that of an FMJ08.
The mask takes both NATO/STANAG and GOST 40mm threaded filters.
Community content is available under
CC-BY-SA
unless otherwise noted.