No, it's not a normalized thread, it's STANAG!
The thread on this filter is NOT made to fit in both GOST and STANAG threads, and it won't seal with a GOST thread more than any other STANAG filter.
The FP-5 filter canister was developed for the MP-5, which replaced communist-era masks in Polish military service. The adoption of this NATO STANAG 4155 filter canister came within a few years of Poland's accession to the military alliance.
Normalization myth
Edit
It's commonly (and inaccurately) believed that the FP-5 filter canister thread pitch is designed in such a way as to accommodate both GOST and STANAG compliant inlets as a deliberate transitional measure[1][2].
This is a false assumption: the thread on these filters doesn't differ from any other STANAG filter.
Variants
Edit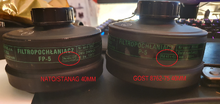 The FP-5 filter canister has a variant with a GOST thread, called P-5. These GOST threaded filters are older, and most likely expired. However, it is incorrectly believed that a standard FP-5 can thread onto GOST masks due to the relatively tolerant threads of the SHM-62u.
References
Edit
Community content is available under
CC-BY-SA
unless otherwise noted.