Unknown status
The filter(s) listed in this article may contain materials that are dangerous to health
We are looking into this filter to determine its safety
Please avoid using these filters as they may be dangerous to health.

The GM-54 is a German gas mask issued to both Civil Defense and the German Military.
Overview
Edit
The GM-54 was a small light-weight gas mask similar in design of that of the GM-30 and the GM-38. The GM-54 is built from a canvas material coated in a grayish green rubber coating, similar to previous Nazi military mask designs. The mask uses a simple connected intake and outtake valve attached to the front of the mask, with a metal cover covering the outtake valve to prevent damage and decay. It uses a simple five piece head cloth harness with a bottom harness strap to tighten the mask for a better seal, some models also included carry straps. The lenses are attached by a large metal crimp on outer pieces, a design carried over from the previous GM masks.
The mask was issued in a large metal canteen as most GM masks were, with a simple carry strap attached for mobility.
The GM-54 was issued with a slightly improved version of the filter issued with the GM-30 mask, the FE 55, the filter is small and lightweight.
The GM-54 was created by Drager in the early 1950s as successor to the GM-38.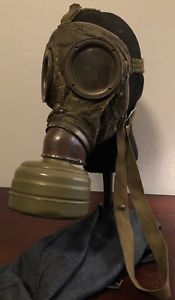 Community content is available under
CC-BY-SA
unless otherwise noted.