We need more information
This article is a stub.
You can help Gas Mask and Respirator Wiki by expanding it and adding more information to it.
The M-3 or M-52 was introduced in 1952. It is made of butyl rubber, has a star on the top with the name, it uses Tissot-tubes. It also has a port for a hose which is attached to a coffee-can style filter.
The inhale valve is located in the filter itself. It has a resemblance to the Mk IV General Service Respirator gas mask.
The bag is a lot similar to the Soviet Type A bag and British Mk IV and V bag and has two compartments - one for the filter, and one for the mask.
It has two ways of carrying, one around the shoulder, and one around the waist.
Head harness of the mask is made of canvas with intertwined straps, and it has a neck strap.
The mask it self is a copy of the Vz.35 but the only difference is the exhale valve cover, it isn't coated with a canvas-cloth like material, and has a neck strap.
The mask was produced in 2 colors. A black rubber and a more uncommon tannish rubber.
This mask unfortunately does not have many markings, and the ones visible are:
The size indicator on this inside, the name on the top accompanying a star, and a stamp on the left cheek with the letters PAZ. Other than that, there are no visible markings.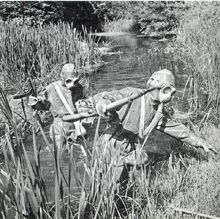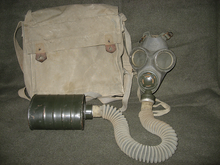 Sources :
Video: https://www.youtube.com/watch?v=2n4G8iHVM9g&t=360s 21.01.2020
1st picture of the mask: https://www.gasmaskking.com/yugoslavian-m3 21.01.2020
Community content is available under
CC-BY-SA
unless otherwise noted.