Jurassic World: Dominion Dominates Fandom Wikis - The Loop
Play Sound
Hold up! Under construction
This article or section is currently under construction and is in an unfinished state. If there is an urgent need for information about this topic, comment at the bottom of this page with a question.
M. 1931 Is a Danish interwar mask, being a further development of the previous M.1926/29, which itself was an improved R.S.C. derivative.
Mask
[
]
The facepiece is constructed of 2 layers of cotton, with the innermost being treated with boiled linseed oil, and the outermost being rubberised.
The valve-housing is near identical to the M.1926 and made of stamped aluminium.
Early masks were painted an orange-ish brown, whereas later production ones were tan and green. The lens-holders are stamped, threaded on and made of brass, the lenses are of triplex glass. 
The harness consists of 5 cotton straps, each with metal springs on the inside to provide elasticity. The straps meet with a cotton band in the back. It also has a nape strap which would go through a brass loop found on the harness, which then hooks onto a hook on the left side of the mask. It also has a neck carrying strap.  
History & Use
[
]
The mask had already begun development by 1929, and started initial production in 1930 for testing. Upon approval in 1931, it was quickly put into production, and saw prominent use from 1932 up until the 9th of April, 1940, in spite of the introduction of the M.1938, which would never replace it. In 1938, a formal request to reform the army's uniformity involved the change of colour palettes, resulting in the change of the M.1931's appearance, going from earthy colours of brown and orange to green and tan.
Due to this change, pre-existing inventory had to be replaced, resulting in large quantities of excess M.1931's being sold off as surplus. The surplussed masks could then be found at pharmacies and protective equipment dealers for protection against particles and vapours. Due to their abundance, it became one of the most prominent respirators among civilians in Denmark, only being surpassed by the civilian model M.1938 a few years later.
Escape and emergency kits could be found, being largely normal kits with red painted containers for easy visibility. Those kits could be found in factories and other buildings liable for fire or gas leaks.
Features
[
]
42mm female thread for mounting filters.
Removable triplex glass lenses, which can be unscrewed from the outside for maintenance/installation of anti fog inserts.
Adjustable head harness. 4 points of adjustment on the harness, one point on the nape strap.
Neck carry strap.
Accessories
[
]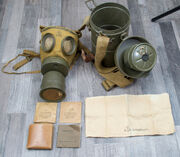 The kit consists of
Mask with filter
Manual
Canister
Extra filter
Anti-fog inserts
Cleaning cloth
The kit is stored in a metal canister, stamped M. 1931 on the lid, and with a female 42mm thread stamped on the inside to store the extra filter in. Earl filters are sealed with wax and cardboard cover, while the later would be sealed with a rubber plug.

Gallery
[
]