Hold up! Under construction
This article or section is currently under construction and is in an unfinished state. If there is an urgent need for information about this topic, comment at the bottom of this page with a question.
We need more information
This article is a stub.
You can help Gas Mask and Respirator Wiki by expanding it and adding more information to it.

The MP-6 "Apollo" is first Polish designed and made gas mask since the 20th century interwar time period. Currently, it's issued in first-line troops, but with intentions to fully replace MP-5 in the near future.
First publicly shown at MSPO / IDIE 2010 where gained prestigious "Defender" award. In 2012 Army ordered first mass shipment and officially adopted the mask.
2012-2015: 30.000 delivered
2017-2022: 76.000 ordered
The MP-6/T "Apollo" is the upgraded model first shown at MSPO / IDIE 2017. The main difference is the use of a wide panoramic plastic lense and further compacting the model. The current status is unknown.
gallery                                                                                                                             
Edit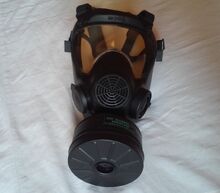 Community content is available under
CC-BY-SA
unless otherwise noted.