Hold up! Under construction
This article is currently under construction and is in an unfinished state. If there is an urgent need for information about this topic, comment at the bottom of this page with a question.
We need more information
This article is a stub.
You can help Gas Mask and Respirator Wiki by expanding it and adding more information to it.
The P.C.40 was the last main civilian mask design produced in Italy before the end of the war.
Mask overview
Edit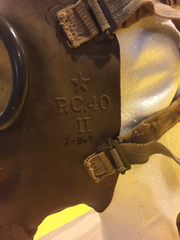 The P.C. 40 was very similar to the P.C. 35, but it was cheaper to produce: the rubber was thinner and the eyepieces were made of acetyl cellulose, much less sturdy than Triplex glass used in previous masks. The exhale valve is in the front and it's covered by a removable lid for protection. The filter intake is at the bottom. The inhale valve is a rubber disc just above the filter intake. The mask uses a simplified Italian five straps system.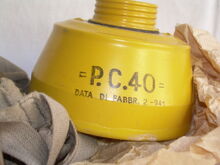 The filter had the same shape as the Pirec38 filter but was painted yellow. It featured a paper disc on the intake that was to be removed when the mask was to be used.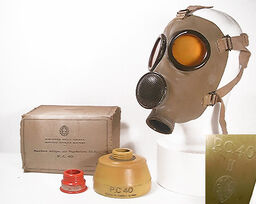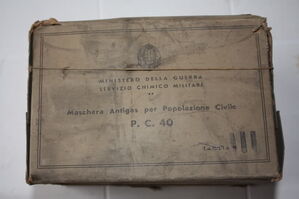 The mask came in two different kits: most masks were stored in a cardboard box and came with the filter, a stick of anti-fogging soap and the manual. Some masks had a dedicated cheaper variation of the T.35 bag and had the same accessories.
Variants
Edit
War variant
Edit
sample text
Post-war
Edit
After the end of the war, the production of this mask did not cease but switched to different materials and hardware, while maintaining the same setup.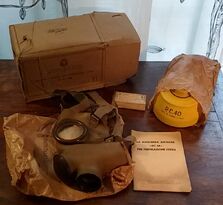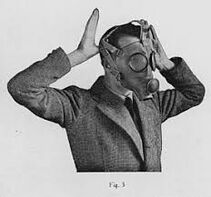 The main differences are:
The rubber used was blue-grey colored, it was more durable than the older mixes
The intake piece was the one later used for the M59, with minor structural differences to the original one
The eyepieces were made of Triplex glass instead of acetyl cellulose
The harness was the same one as the T.35 instead of the cheaper alternative regular P.C. 40s sport
The use, kit and distribution of this mask are unknown, as no info has been found on the topic.
Community content is available under
CC-BY-SA
unless otherwise noted.