Hold up! Under construction
This article or section is currently under construction and is in an unfinished state. If there is an urgent need for information about this topic, comment at the bottom of this page with a question.
We need more information
This article is a stub.
You can help Gas Mask and Respirator Wiki by expanding it and adding more information to it.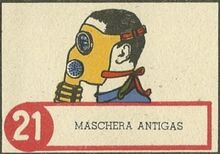 The
P45
is an Italian gas mask made by Pirelli for industry.
Mask overview
Edit
The P45's facepiece is made of a two layers rubber, textured on the outside and smooth on the inside. The head harness is made up by a strap that connected the temples and two that had to be tied together to keep the mask firmly on the face. Although there was no front strap, the mask was kept on by the tension of the temple strap. The eyepieces are made of "unbreakable" glass. The intake is a front-facing 40 mm thread, to which a filter or a hose could be directly attached. The exhale valve is stored in a small cage on the left cheek, and it's kept still by a threaded lid.
Community content is available under
CC-BY-SA
unless otherwise noted.