The ShM-41 (Russian: Шлем Маска - "Helmet Mask"), also produced in east Germany as the SchM-41, was a Soviet mask intended for infantry use. Similar designs were used throughout the Warsaw pact, and the ShM41M itself was exported to many Soviet countries.
The ShM 41M is a Soviet gas mask made for the military. It is the most popular gas mask model in the Soviet military using the hood layout. The mask evolved and its construction held different markings. Several licensed copies of the mask were used in Warsaw Pact countries during the Cold War, including the Polish OM-14, MUA [with voice emitter], and the Bulgarian BSS-MO-4U.
The origin of the Soviet ShM-41M dates back to World war II, where the SHM-1 gas mask was a standard Red Army issue mask. The 'Hood Style' however dates back to World War I, pioneered as the 'Zelinsky-Kumant' gas mask. The kit completed with an SHM-41/SHM-41m/SHM-41mu is part of the RSH-4 kit, it has a bag which contains the three main components, hose, filter and face piece. also a little pocket inside for antifoglens inserts and sidepocket for IPP-8 decontamination kit. filters would be EO-12/EO-14/EO-16(changed trough time). The RSH-4 kit is compatible with the SHMS face piece and the MM-1 , all masks produced in the 50s and 60s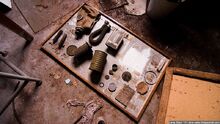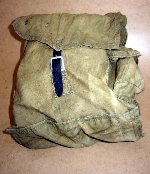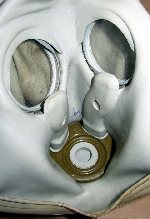 Community content is available under
CC-BY-SA
unless otherwise noted.