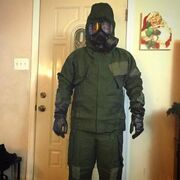 I am a teenager from the US. I have been collecting for about a year now. Other than gas masks, I am intrested in Firearms, Computer Hardware/Software, Paintball, Gaming, and The Soviet Union. You can contact me through steam https://steamcommunity.com/id/GloryToTheUSSR/
My Gas Mask Collection; Ordered By Date Received
Edit
(West German) M65z
(Soviet) ShM-62u (GP5)
(US) M40a1
(Czechoslovakia) M10m
(Israel) 4a1
(US) M17
(Soviet) GP-7
(Chinese) TF-1
(US) MCU-2A/P
(Yugoslavian) MC-1
Not Quite Gas Masks (In Order By Date Recived)
Edit
M65 Stalhelm
Mosin Nagant M91/30 (1943), with bayonet, ammo pouches, cleaning tools, and stripper clips.
M52 Helmet
NVA Chemical Poncho
US Issue ACH (Advanced Combat Helmet)
OH 11-1A Individual Guide for NBC Defense
TM 3-216 Technical Aspects Of Biological Defense
US Army BDUs w/ 101st patch (Given to me by my father who was in the US Army)
US Army Combat Boots, Winter Boots, and Jump Boots\
ext.
My favorite pages
Edit
Community content is available under
CC-BY-SA
unless otherwise noted.