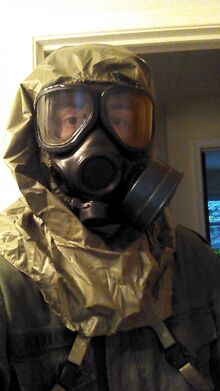 About Me.
Edit
I'm 21 years old, I was born in Poland, but I was moved to the US. I do not speak Polish, unfortunately.
Though, my English kinda sucks. (Due to growing up around family members with the inability to speak proper English.)
I like gas masks because of their design, and their purpose. Not to mention they look badass, such as the S10/FM12. (Probably because of the British Military and SAS who fields it. And the Umbrella Security Soldiers from Resident Evil 2.)
My cousin was issued an M17A2 gas mask back in the Gulf War. Which I tried getting my hands on, but I couldn't find one at my local military surplus store. So I decided to get the Czech M10M, since it was the closest I could get.
Gas Masks I own, in order of purchase:
Edit
Czechoslovakian M10M (1984)
Soviet PBF (1974)
Soviet ShMS (1987)
Avon FM12 (2000)
Polish MP4B (1990)
US M17A1 (1982)
Yugoslavian M2 (1986)
US XM28E4 "Grasshopper" (1969)
US M17A2 (1984)
US ABC-M17 (1963)
Polish MP-4 (Grey) (1985)
Canadian C3 (1989)
Canadian C4 (1990)
South Korean K1 (1989)
US M40A2 (2004)
Chinese MF-22/FMJ08 (Unknown)
Polish MP-4 (Olive Tan-ish) (1977)
Yugoslavian M2F (1998)
Yugoslavian MC-1 (1980)
Bulgarian PDE-1 (1998)
Soviet PMG (Left handed) (1980)
US M9A1 (Right handed) (1951)
US M17A2 w/Microphone (1985)
US MCU-2/P (Scott Aviation model) (1989)
Scott M110 (2008)
US M45 (Campbell Plastics model) (1999)
Potential mask(s) I want to get next:
Edit
Czechoslovakian M10
British SR6
Polish MP5
Scott M95
Israeli M15
West German M65
South Korean S3
Soviet PMG (Right handed)
US M9A1 (Left handed)
Accessories I Own:
Edit
US M6 NBC Hood (FOR M17 MASK SERIES)
US M13 Decon Kit
Green Laser Protection Outserts (FOR M17 MASK SERIES)
South Korean K1 NBC Hood
US M40/M42 First Gen Second Skin Hood (Damaged)
Third Gen Second Skin (CAME WITH M40A2) (2004)
Yugoslav MC-1 Civil Protection Kit
US M3 (SP) T.A.P. Hood (FOR M40/M42 MASK SERIES)
US Quick Doff Hood
US M40/M42 Second Skin Hood (INTACT)
US M7 VPU
US M42 Filter Carrier
US M42A2 Filter Carrier
US M50/M51 Combat Vehicle Chemical Hood
US M45 Second Skin (2000)
Protective Clothing I Own
Edit
British Mk IV Six Colour Desert Camo "Chocolate Chip" patterned NBC suit (1990)
US M81 Woodland patterned MOPP suit (1984)
M2 T.A.P. Apron (Unknown)
US Chemical Gloves (1987)
British Mk III suit (US Navy issue) (1988)
Not Related to Masks At All
Edit
PASGT Kevlar Helmet (1999)
OD M65 Field Jacket
Currently on the way:
Edit
Masks I'll probably never own:
Edit
German M2000
Swiss SM-90
SM-03
Avon FM53
And no, my collection is NOT for sale, or up for trade at this time.
Some stuff with my masks.
Edit
Community content is available under
CC-BY-SA
unless otherwise noted.