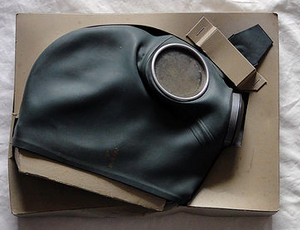 The VM-37 is a German WWII era gas mask, The mask itself is a dark green and features a very unique flapper exhale valve that make this gas mask iconic. It has a metallic colored coffee can filter with a lot of holes at the bottom. The VM-37 suctions to the head like a GP-5 or TF-1 gas mask.
History: Used from 1937 to 1945 as a Military gas mask, the military didn't need them that much so they issued them to civilians. Primarily for children. Made by and for Nazi party. Called the Deutsche Volksgasmaske, which means "German People's Gas Mask" it started manufacturing in 1937, Hence the name VM-37.
Opinion/Price: Nazi's suck, but it is cool to find one of these for sale. Very rare and probably ranges from €61-€81 or $75-$100. Really nice gas mask for your collection.
Community content is available under
CC-BY-SA
unless otherwise noted.